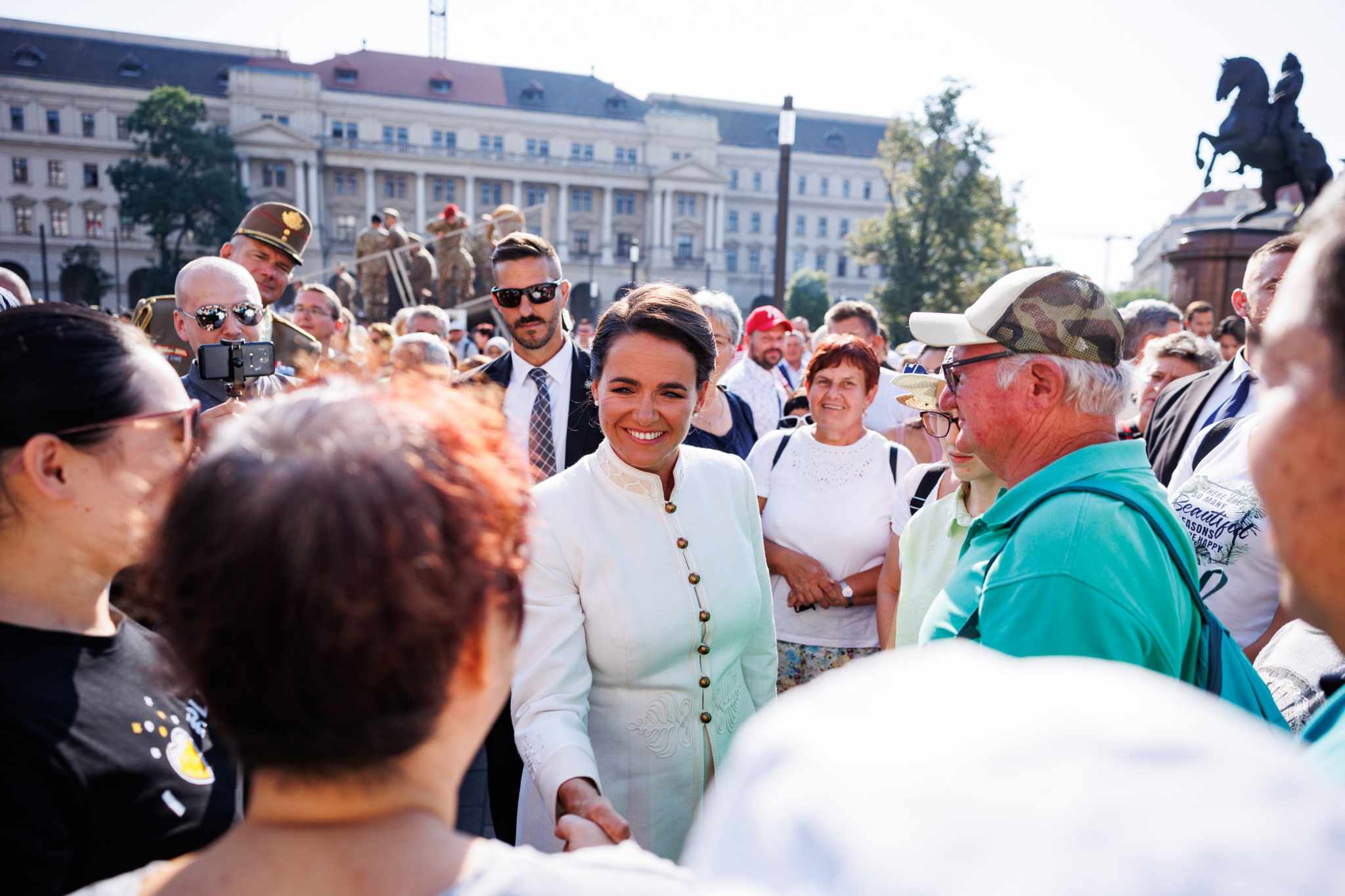 On the morning of the feast for King Saint Stephen, the founder of the Hungarian state, 166 officers took an oath in Budapest, in the presence of President of the Republic Katalin Novák, after the ceremonial raising of the flag of Hungary. The officers swore an oath to defend the independence of their country and the rights and freedom of Hungarians at the cost of their lives. The Head of State wished the soldiers strength and good health so that they could stand by their oath.
After the ceremony, Katalin Novák travelled to Esztergom, where she celebrated the Day of King Stephen with Cardinal Péter Erdő, Archbishop of Esztergom-Budapest and Mayor Ádám Hernádi. 
In her ceremonial speech in the Elizabeth Park below the castle, the President of the Republic stressed that by founding Christian Hungary, by making our country part of the Western world through a conscious decision, Saint Stephen not only marked out the path we should follow, but also gave it an undeniable place in our lives. According to Katalin Novák, King Stephen is thus with us in everyday life and on holidays, in schools, in our public spaces, in our churches, in hospitals, in poems, novels, films and rock operas, both here and abroad.
Katalin Novák stressed that 20 August is a holiday in the truest sense of the word, a holiday that reminds us of our past, year after year, and fills our future with hope. The Head of State added that it is a day when the unimportant is pushed into the background and the truly important comes to the fore.
On the occasion, the President of the Republic presented the Order of St. Stephen of Hungary to world-famous biochemist Katalin Karikó and Olympic fencing champion Áron Szilágyi, while the Order of Honour of Hungary was awarded to Franciscan monk Csaba Böjte in the Knights' Hall of the Royal Palace in Esztergom.   
Katalin Novák stressed in her speech that the nation needs role models. 'Role models with whom we speak the same language, with whom we share a common history, role models who are like us and whom we can look up to while recognising ourselves', she said.
In the early evening, Katalin Novák attended the procession of the Holy Right and celebrated Holy Mass in the Basilica. The President concluded the national celebrations with a fireworks display.